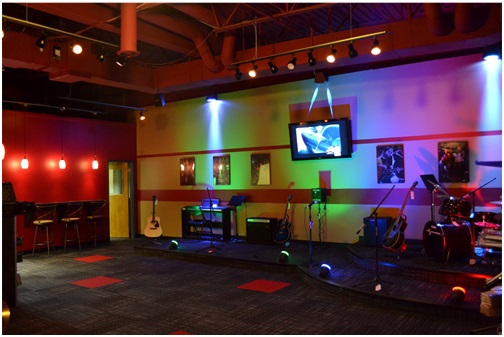 We are currently not hosting birthday parties due to our expansion. We will update as soon as we know when our parties be available again! Thank you for understanding.
Looking for a fun place to host your child's Birthday?
Come on down to Performing Arts for a
One-Of-A-Kind Kids Karaoke Party!
We provide the Karaoke, Pizza, Soda & Water, Paper Products, & Clean Up! If you'd like, feel free to bring your own cake.
2 Hour Rental of our facility. Fridays, Saturdays, & Sundays available!
Must Be Planned 2 Weeks ahead of time.
$50 Deposit due a week before event.
Minimum of 10 kids / $15 per child. If 20 or more, it's only $12 per child!
(Maximum of 40 total children.)
---
LITTLE ROCKER PARTY
Ages: 4-7
This hands-on party is designed to introduce the wonders of music and is supervised by one of our Musiking instructors.
Includes:
2 Hour Party plus 1/2 for set up

Playing Instruments

Designing VIP Passes

Sing alongs w/ REAL Microphones

Red Carpet Photoshoot

Pizza & Beverages in our Stage Room

Each kid will leave with a voucher for 1 FREE trial lesson
POP STAR KARAOKE PARTY
Ages: 6+
This is the party for the American Idol!
Get ready to hit the big stage and sing along to your favorite songs!
Includes:
2 Hour Party plus 1/2 for set up

Pop Star Makeover

Karaoke on the big stage

Red Carpet Photoshoot

Dance Party with professional stage lighting!

Pizza & Beverages in our Stage Room

Each kid will leave with a voucher for 1 FREE trial lesson
ROCK STAR MAKEOVER PARTY
Ages: 7+
Get ready to hit the stage and Party Like A Rockstar!
This interactive party allows the children to explore music instruments and even perform live on the big stage!
Includes:
2 Hour Party plus 1/2 for set up

Designing a laminated back stage pass with lanyard

Rock Star Makeover w/ Tattoos!

Rock Band Lesson & Jam Session with REAL instruments

Red Carpet Photoshoot

Pizza & Beverages in our Stage Room

Each kid will leave with a voucher for 1 FREE trial lesson