1. Music Lessons in Piano and Keyboard, Acoustic and Electric Guitar, Drums, Voice and Singing, Bass, Banjo, Mandolin and Ukulele, Violin, Viola, Cello, Trumpet, Trombone, Tuba, Flute, Oboe, Clarinet, Saxophone, and Rockband Classes
This saves our students time and money as one family can sign up for music lessons on multiple instruments on the same day. We offer lessons to students of all ages and levels.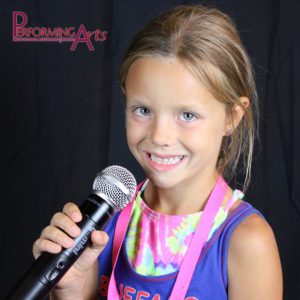 2. Exceptional Teachers
At Performing Arts, we provide experienced and talented music teachers who are skilled at teaching students of widely varying ages, experience levels and personalities.
3. Unparalleled Customer Service
We take pride in providing the best possible customer experience, and we have professional and friendly office staff available 6 days a week to quickly assist you with any questions about enrolling in lessons, scheduling, student recitals, and student activities. Meet our Lesson Coordinators!
4. Wide Range of Lesson Times
Performing Arts hours reflect the needs of our students, children's school schedules, and the working adult. We offer lessons Monday-Friday 3:00p-8:00p and on Saturdays from 9am-2pm.
5. Proven Track Record of Excellence
Visit our Testimonials page to see what our students and parents are saying. Every year, aspiring music teachers start their own studio, and a year or two later they close. Performing Arts, has a proven track record of offering quality music, piano, guitar, voice, drums, woodwind, brass, and string instruction in Depew, New York year round. Our full-time mission is teaching music lessons.

6. Free Recitals Throughout the Year
Performing Arts offers a variety of recitals throughout the year for all students. We create positive, confidence building performance experiences for our students, because these experiences are crucial to their development. Recitals are held on our beautiful stage in house, the Hard Rock Cafe in Niagara Falls, Canal Fest of the Tonawanda's, and more.
7. Professional School with Fully Stocked Lesson Rooms
Our school is stocked with everything you need for music lessons, including guitar amps, stereos, drum sets, mirrors, keyboards or pianos in every room and more. All you need to bring is your instrument. We have invested thousands of dollars on our school to offer quality rooms with observation windows to every room.
8. Comfortable Lounge for Parents and Students
We have spacious and parent friendly waiting areas in our school. Our clients enjoy a professional waiting areas with comfortable chairs, free wifi, music, kids coloring area, etc. We also provide large observation windows on every door so that you can watch your child's music lessons. If you prefer, you can sit in on their lessons anytime you like.
9. Trophies, certificates and award wristbands to celebrate achievement!
We are the only music school in Western New York that gives their students the opportunity to earn special color wristband bracelets (kids and teens love them!), trophies AND certificates for passing musical milestones. Do other schools offer trophies and certificates? A few. But none of them inspire their students with smiling face by giving them full color, really cool"Musical Ladder®" wristbands that they can show off to their friends. The Musical Ladder® is our unique method of music education that you can only get here.
More importantly when our students have a milestone coming up, they practice more, their parents are proud, their teac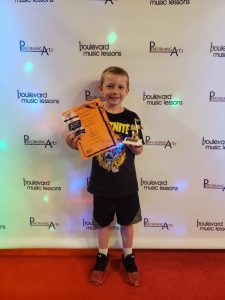 hers are proud, and everybody wins. You can only get the Musical Ladder® here. We also specialize in music lessons for adults.
10. Month to Month Tuition
Our music school does not require semester minimums or yearly membership fees. Our students are here on a month basis. We want you at our school because you like your music lessons, not because you've signed a contract!
11. We Specialize in Music Lessons for Beginners, Both Kids and Adults
Many schools have an intimidating university style curriculum taught by instructors who would rather be performing than teaching. Our number on priority is helping Western NY's area music students achieve their musical goals. If you're a beginner or are looking for music lessons for your kids, or even an adult who wants to get back into lessons, we are happy to teach you!
12. Rockband Classes
We understand that most students have aspirations to play with others, so we offer Rockband classes to eligible students who want to experience playing in a real band. Rockband meets for 3 hours a month and has 4-6 shows throughout the year. Our bands consist of 1 Keyboardist, 1 Drummer, 1 Bassist, 1-2 Guitarist, 1-3 Vocalists, and an instructor.
LESSONS ARE FIRST COME, FIRST SERVE
SO CONTACT US TODAY TO ARRANGE YOUR FIRST LESSON!